FREEDOM COLOR RUN
Our Annual Freedom Color Run was held on July 4, 2023 at Soldiers and Sailors Park! The Freedom Color Run is held to celebrate our freedom, honor our military, and for fun for the whole family!
Thank you to the runners, walkers, volunteers and sponsors who helped make this another successful event!
The race starts at 8am with The Princeton Veterans & Color Guard with the Star Spangled Banner playing as we celebrate our freedom and honor our veterans and those who are serving our country. There are three color stations and water stations located throughout the race. Run along Princeton's historic south Main St and quaint streets. What better way to start your Fourth of July celebrations!
How much is the race registration? $30 covers your registration and race bag (+runsignup processing fee) Family Registration $100 includes 2 adults and 2 children with the option to add additional children for $10 (tee shirt fee) Race bags include mental health resources, a race tee that can be creatively cut or colored prior to race, white sunglasses, a bandana, and other surprises.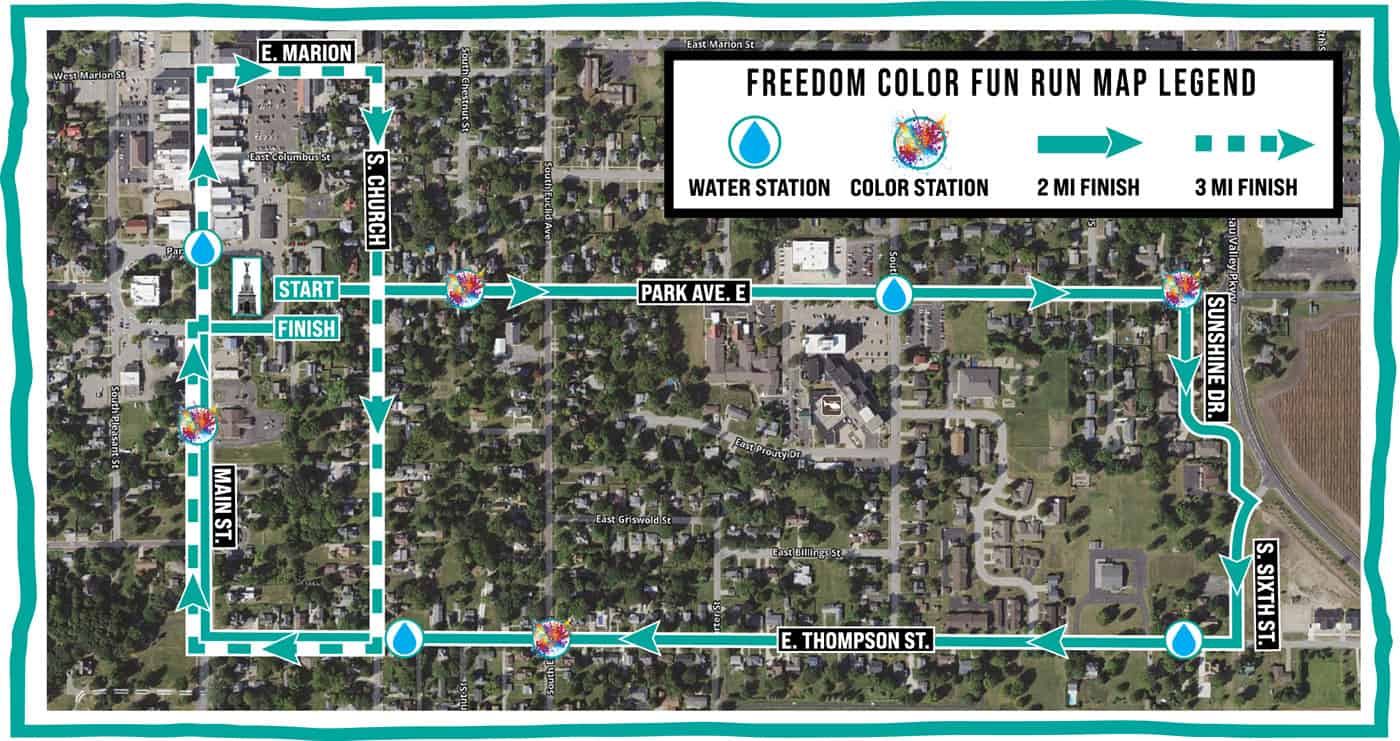 What is a color run? A Color Run is a non-competitive Fun Run or running event where participants and observers throw brightly colored paint powder on the runners. All participants should wear white to start to make the most of the colorful splashes. Supporters will enjoy this event, simply because it's about having fun and sharing the love.
Is inhaling the powder safe? Our vibrant colors are made up of Corn starch and FD&C and/or D&C colors. Color safety information: Approved for use in foods, cosmetics and/or drugs. These products are not considered hazardous, 29 CFR 1910-1200. Bandanas are provided to help cover face or as a fun addition to your outfit or pet.
Will it come out of my clothes or off my skin? Yes! The easiest way to get it off is while it's still dry (shake, wiggle, jump up and down, vacuum, etc). After that, soap and water, with a little rinse and repeat action will do the trick.
How do I get the color to stay on my Arukah Freedom race shirt? We provide a "how-to" sheet in your race bag, but color can be made permanent by soaking the item in vinegar, allowing it to air dry, and then ironing it before putting it through the regular wash.
What if I get powder in my eyes? We encourage participants to wear sunglasses (not only will everyone look way more cool, you even get a pair in your race bag) but it will greatly reduce the chances of colors in eyes. However, never fear, the color is non-toxic. A simple rinse with water will take care of you.
What if my child eats the color powder? Eating powder is not recommended. It is corn starch, but will taste about like colored dirt.
What do I do after the race is over? Grab a healthy snack from our food table and enjoy the music. Cheer on the remaining participants, or dust yourself off and head to your favorite Fourth of July cookout. Be sure to check out Princeton's Fourth of July firework display along with food trucks and other vendors at Zearing Park.
Follow our Facebook Event page for updates and more information as it becomes available. E-mail [email protected] for any concerns or questions. 

Arukah brings accessible & relational holistic complementary health and mental health care to rural communities
1916 North Main St., Suite 3
Princeton, Illinois 61356
Open Monday - Friday 8am - 6pm
(815) 872-2943
Transactions on this website are being processed securely by one of the most trusted names in the payments industry.